September 30 – October 1, 2022
White Oaks Resort and Spa – Niagara-on-the-Lake
---
---
Engage with insightful and influential leaders at PPPC's Women's Empowerment Event.
WEE is a networking event and learning experience created by women, for women to share knowledge and ideas.
Build friendships and strengthen your contacts within the promotional products industry in an inviting atmosphere. Recognized and award-winning panellists will leave you inspired and motivated. Join other influential women in designing a new tomorrow!
---
What's Included in Registration?
The package price includes:
One night and two days at WEE 2022
Access to Professional Development sessions and Networking opportunities
Superior Guest Room Accommodation
Breakfast Buffet
Two Buffet Lunches including beverages (ie. Milk, Juices, Soft Drinks)
Gourmet Full Course Dinner in a private banquet room
High Speed Internet Access
---
Directions to Resort
To get to White Oaks Resort and Spa from the Niagara Falls International Airport:
Get on I-190 N in Niagara from NY-182 W
Follow I-190 N and General Brock Parkway W to Regional Road 90. Exit from Queen Elizabeth Way
Continue on Regional Road 89 to your destination
To get to White Oaks Resort and Spa from the Niagara District Airport:
Head southwest and turn right onto Niagara Stone Road/Regional Road 55
Continue onto Queenston Street/Taylor Road/Regional Road 70
Turn left, the resort will be on your right
---
Want to Come Early?
WEE 2022 takes place from Friday, September 30th to Saturday, October 1st, however, should you wish to come early on Thursday, September 29th, the hotel is providing rooms at a rate of $199.00/night!
To book, please contact the Resort at 1-800-263-5766
---
Gallery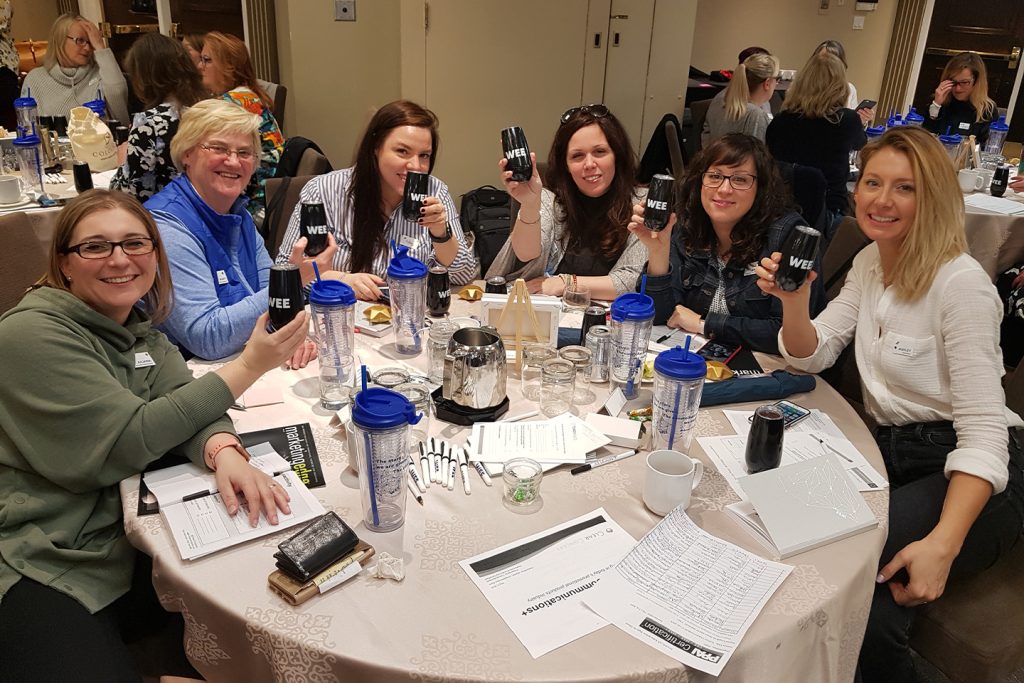 ---
Sponsors
---
Downloads
---
Testimonials
Attending my first WEE in 2019 was an incredible experience and a lot of fun! The Plan-It women will definitely be back with even more of us in 2020 and I can't wait to see what's in store for us! We were absolutely blown away by the quality of the WEE speakers and the incredible opportunity for professional and personal development. I'm encouraging all of our female team members to attend in 2020!

Cindy Chapman – Chief Innovation Officer & Founder – PlanIt Promotions Ltd.
To me WEE is a learning experience and a place to share ideas and knowledge in an open and friendly atmosphere. The speakers are always memorable, insightful and engaging. This is a platform to teach as well as to build friendships and strengthen contacts within our industry. I feel that WEE is one of the best events I've been to and this will be my fifth one coming up! I highly recommend it to any woman in our industry whether on the supplier or distributor side – we all work together.

Patty Weisdorf – Sr. Account Executive – Cotton Candy
Wee 2019 was the best I've experience yet. Congrats to the wonderful, hardworking, and caring ladies who spend tireless hours organizing this event. The experience is always interesting, thought provoking, and lots of fun. Can hardly wait for Wee 2020!

Cindy Puritt – Senior Business Development Manager – Debco
I just wanted to thank you again for organizing and hosting yet another wildly successful WEE Conference. I can't tell you how much positive feedback I heard from not only the BrandAlliance ladies who attended, but every single person I met outside our organization. It was a great event, EXTREMELY powerful and interesting presenters and it provided an opportunity to meet women from different organizations and learn about their challenges in career and life. Many of us struggle with the work/life balance and this event made many realize they are not alone, but the ability to overcome struggles of any kind are within us. Can't wait for this year!

Lindsay Alcorn, CAS – Vice President, Eastern Canada – Brand Alliance
What makes WEE so special? One thing I especially love is that we get maximum value from a pretty tight schedule. Give them two days, they'll give you a whole lot in return!! The speakers are well diversified, from professional development to motivational. The networking opportunities are always fun and dynamic. The diversity of the women in attendance is great, and the fact that it draws from western Canada as well as the greater Toronto area is really impressive. Overall, for variety of sessions, diversity of regions represented and a great mix of topics and fun, WEE delivers!

Kippie Helzel, MAS – Sr. Vice President, Sales – Custom Plastic Specialties, LLC
---